Welcome to Australia's first ever and by far, the most experienced Jet Fighter rides operator. We are the 1st provider of the top gun jet fighter experience. ACA's Pioneering operation is currently the only company to utilise multiple Jet Fighters with multiple pilots and are the only 7 Day Jet Fighter operator in Australia. We operate from Sydney's Camden airport which is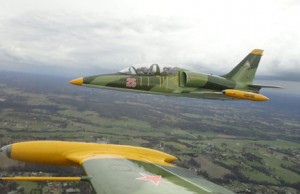 just a short 40 minute drive from Sydney's CBD which makes us the only L39 Jet Fighter operator in the Sydney Basin! Purchasing a Jet Fighter Ride from ACA is an unbeatable experience that will definitely get the heart pumping and the adrenalin rushing when your travelling at speeds in excess of 900km/h!
ACA can also arrange pickup and drop off for those travelling interstate/internationally, as we regularly take customers for the ride of their life from brisbane, melbourne, perth, europe, and USA.
How to book a Jet Fighter Flight?
Firstly you choose the Jet Fighter Ride you would like to purchase by searching our pricing page, then simply ring Jay Ekinci on 1300 520 463 or email jay@aircombat.com.au to pay your $200 deposit and confirm your booking. You will then receive your voucher to hand to that special person on that special day.
If you have any questions at all please don't hesitate to contact Jay on 1300 520 463.
Jet Fighter Pilots:
Your Jet Fighters are flown by father-son team Ray and Jay Ekinci, Ray is one of the most experienced Australian Fighter Pilots, Ray has time as a Fighter Combat instructor, and over 20 years of domestic and international air show performances in jet fighters and stunt planes. Ray was the first to introduce the Jet Fighter Ride Concept, and has since then trained and tested the majority of civilian Fighter Pilots, and Jet Fighter Adventure Ride operators in Australia. Ray has completed over 4500 Jet Fighter rides personally since he began the Jet Fighter Ride Concept. Jay at the age of 17 was announced as Australia's youngest Jet Fighter pilot. Jay  has completed International Ferry Flights, Low level aerobatics to 500AGL, multiple twin types and night flying among several other endorsements and licenses.
NB. Whilst there are operators that claim to be '7 days a week' and to have 'pioneered the jet fighter adventure concept' you can be sure that ACA is the longest running and most experienced Jet Fighter operator with the L39 and MiG 15 Jet Fighters and we are currently the only operator available 7 days a week as we have 4 L39 Jet Fighters and 3 L39 Jet Fighter Pilots.
The ACA Top gun for a day experience is the greatest gift idea possible weather your young, old, male or female there is a Jet Fighter Ride for you! Purchasing a Jet Fighter Ride will be the one gift you will never forget!Strapping into our L-39 Jet Fighter, you will live the adventure of being a Top Gun Fighter Pilot  for a day – the dreams of many, reality of few.
ACA started the Sydney based jet fighter operation and soon after featured on the 'Footy Show' with Brad Fittler in the 90's going ballistic in our MIG jet fighter, flying at speeds in excess of 1200 km per hour, that is Sydney to Newcastle in less than seven minutes. Since then we have upgraded to the latest model L39 Fighter Jet, and have provided the public with over 5500 exhilarating, heart pumping, adrenalin rushing fighter jet rides from our Sydney jet base.
At ACA you have the advantage of dealing with the people who own, maintain and operate the jet fighters we fly. ACA operates the Jet Fighter within the Sydney basin offering rides from Camden's jet base.
We specialise in making dreams come true for you! our most important Top Gun Jet Pilot. So if you're interested in experiencing this heart pumping, top gun jet flight experience, or purchasing a jet ride for that special person, contact Ray or Jay on 1300 520 385 or 1300 520 463.
So what happens on the day?
You will arrive at Air Combat Australia Jet Fighter Headquarters at Sydney's Camden airport, and present your induction telegram. You will be issued with your top gun flight suit and helmet, then briefed on the mission you are about to complete.  Once briefed you will be seated in the fighter jet for the ride of a lifetime.
Corporate Rewards Program:
Air Combat Australia can provide corporate rewards for companies seeking to give the ride of a lifetime to its employees when they strap in to the jet fighter at speeds in excess of 900km/h!  We have completed many corporate events with companies such as Telstra, Ricoh, 3M, Mercedies, Forsters Brewery just to name a few.
Discounts will apply for group bookings.
Air Combat Australia; Flight Training Sydney:
Air Combat Australia also operates a fixed wing flying school to the highest standard. If you are interested in flight training visit: Air Combat Flight Training.